---
FIFA World Cup 2022 in Qatar saw many surprising results. In fact, too many – some would argue. From the unbelievable loss of Argentina to Saudi Arabia at the very beginning of the group stage, via the loss of the magnificent Brazil to Cameroon at the end of the group stage, to the groundbreaking performance of Morocco who were competitive playing against all the usual grands.
Here are the results for the latest World Cup 2022 (darkest line with all the unlikely outcomes annotated) in comparison with three previous World Cups, 2018, 2014, and 2010.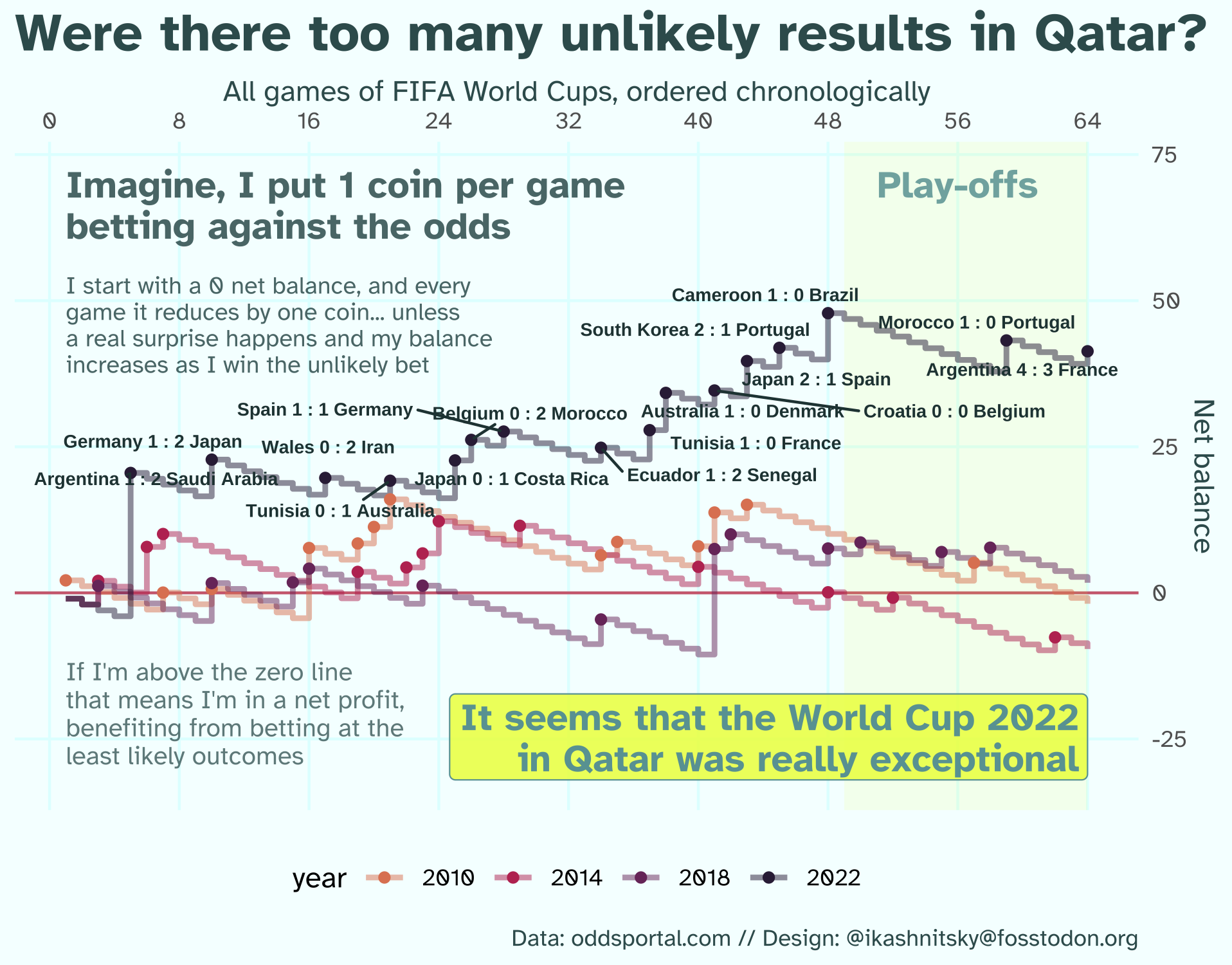 Decreasing step lines in the plot represent my decreasing fictional balance. Each game I bet 1 coin on the least likely outcome. Most often I lose this bet, and my balance decreases. Though, sometimes the least likely outcome happens, then my balance increases substantially by the size of the unlikely outcome odds. For example, in case of Argentina losing to Saudi Arabia the odds for this outcome was 25.
We can see that the 2022 World Cup was really exceptional – too often the outcomes that were considered the least likely happened. It's also evident that surprises happen more often at the group stage, especially in the third round when many leaders apparently have already reached their group-stage goals (think of the recent game Brazil–Cameroon, where Brazilians literally played with the second team). I would say it's really surprising – if one bets consistently against the odds at all the group-stage games, at least in the last 4 World Cups (for which we have odds and outcomes data) this dead-simple strategy turns out to be beneficial. My wild guess is that the World Cups see masses of inexperienced new betters who are placing bets on their national teams whatever, which at the global scale is disbalancing the whole system. Alternatively, maybe we are just slow and bad at recognizing how football is becoming more international, and now more underdogs are able to give a decent fight to the traditional grands.
In contrast, Play-offs are apparently less chaotic and more predictable. Betting on the underdogs at the Play-offs stage would guarantee to lose money in all 4 recent World Cups.
---